Greenhead Gymnastics Club is a small and friendly club run for the benefit of it's members.  We are a not for profit organisation with the aim of developing the sport at all levels.   The club has a long and esteemed history producing British, World and Olympic Gymnasts as well as our many Yorkshire Junior and Senior Champions.We offer a range of gymnastic classes to suit,
Recreational Classes for gymnasts of all abilities from age 3 1/2.  We have spaces in all classes, please pop down at Class time to enquire
Tuesday 5-15pm to 6-45pm, 7pm to 8-30pm, Thursday 5-15pm to 6-45pm or 7pm to 8-30pm, Saturday 9-15am to 10-45am or 11am to 12-30pm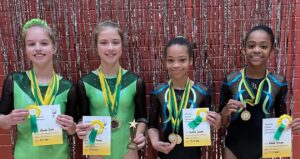 Competitive Squads for those ready able to take the sport further. Please contact the club if you are interested in a squad trial.

We are proud to maintain a highly talented and qualified international coaching staff to lead your child to build their confidence and to make the most of their gymnastic abilities.
To learn more about Greenhead Gymnastics Club, please view Our Club page or visit us on facebook